Last weekend was nothing less than an explosion of birthday party madness. Don't worry-it wasn't all for Emily. Lyla had her party last weekend, too.
Saturday, Lyla hosted a big crowd of costume-clad youngsters at one of our favorite haunts-Dragon Park. Aunt Katy COMPLETELY outdid herself with the party. We're talking varieties of cake pops (and if you don't know what these are, you are missing out on one of the world's most perfect desserts...), spider web cupcakes, brain cupcakes, pink and black halloween themed cookies, eyeball gum, mummy parts candy, fancy white chocolate coated pretzels. I mean, Martha Stewart was jealous. Really jealous. The kids had a great time. It was a little toasty, especially when you consider that Drew was decked out in head-to-toe Batman attire, complete with built in muscles. But, he was dedicated. He dripped sweat, but he would not take off one stitch of his costume. And, as always I managed to take around 6 pictures. Maybe.
Here, the cousins have a little pre-party appetizer. I wish you could have witnessed first hand them chowing on these cake pops. Classic.
And here is Emily in her costume. I DIE.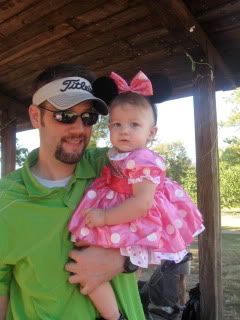 I really have to talk myself out of putting her in this outfit everyday.
Emily enjoyed the party. She spent most of her time hanging out at the beverage station. Along with all the other babies. Apparently ice is the in thing if you're one.
On Sunday we had a little birthday brunch for Emily. Since some of my family lives out of town, we decided not to make them come to Nashvegas twice in one month, so we crammed it all in one weekend. Emily had a great time at her party. Girl really knows how to work the room. I'm pretty sure every single person at the party held her at some point. I barely saw her at all.
The highlight of the party was Emily and her cake. She loves some cake. I, because I'm brilliant, made her smash cake with black icing. I'm slightly obsessive about a theme and once I got in my mind that I wanted Minnie Mouse ears for her cake, I could not talk myself out of it. So, I took her shirt off, put a bib on her and let her go for it. Again, classic.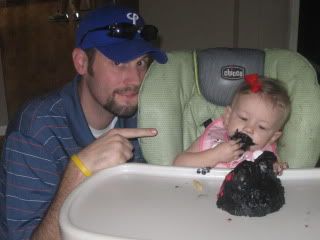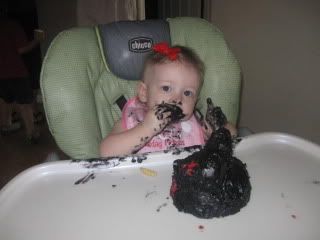 We've spent the week in party recovery mode. Ok. Maybe it's just me. I just can't party like I once could. Can't believe Emmy's a year old and really can't believe Lyla is four. It can only mean one thing. My baby boy is about to be four also. I've got to find a way to stop time. Pronto.