Now that all of my school hubbub is over, it's time to get back to business. The business of gratuitous pictures of my bebes!!
You might not know this about me, but I'm sort of a maniac about making memories. Because of this, I have been known to over plan a few weekends here and there. Just a few. Ahem. So, back a few weeks ago, you remember that we had two birthday parties in one weekend. My sister from Knoxville was coming to town along with all the grandparents. So...I had the bright idea to take a visit to a pumpkin patch. All together. The weekend of two birthday parties. I don't know where these ideas come from. I suppose from the part of me that says, "Just cram in one more thing. It'll TOTALLY be worth it." Thankfully, on this particular weekend, the sisters saw some reason . Maybe all of us traipsing to the pumpkin patch wasn't a great idea. Probably right.
BUT.
I left Emily in the capable hands of Big Dan, twisted Grammy's arm a tad and took my first born to the pumpkin patch. He had the undivided attention of two adults who think he hung the moon, and a few hours to call the shots. He needed it. I needed it. It was the most fun I've had all fall!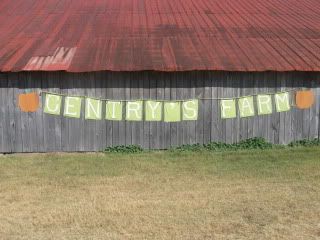 Gentry's Farm-my all time favorite Fall destination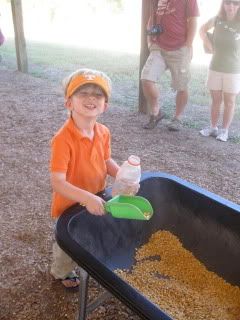 Playing in the corn bin. With his best corny grin. (Sorry. Couldn't resist...)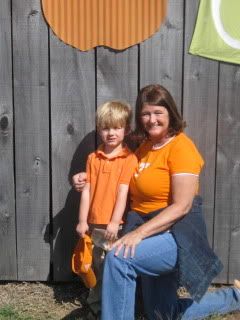 Drew and his Grammy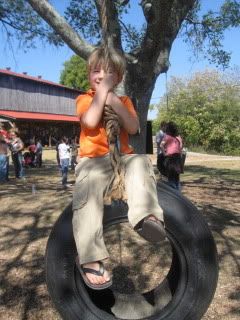 I've been trying to come up with a way to rig one of these in the backyard. It just screams "wholesome".
This is Drew at the entrance to the corn maze. The kiddie version, that is. I think this was his favorite part of the morning-telling Grammy and I which way to go!
I LOVE spending one on one time with my kids. There are surely days when I feel like myself and my love just can't stretch far enough. I might be a slightly crazy memory making maniac, but I'm ok with that. Every single day matters. You can't do it over and you might not get another. I plan to blow it out every chance I get!