While my sister was here taking care of business at my house while I birthed a baby, she did tons of fun stuff with the kids. When I got home, we had the brainstorm to do caramel apples one night. Then I had the brainstorm to make them a little more kid-friendly.
So, here's your tip for the day. Don't forget to head over to
We Are That Family
for more tips.
I took my melon baller and scooped out tiny round balls of apple. Then we had the kids spear them with popsicle sticks and dip them in caramel. You know how a preschooler loves to dip! Next time I do this, I will go ahead and put the apples on the sticks-it was kind of tricky for the kids to do. We used the Kraft caramel bits and they melted super fast and easy in the microwave.
Here's the gang getting instructions
Wearing a shirt is TOTALLY optional during this activity!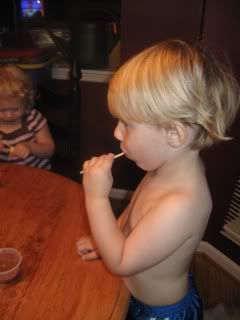 A little help from dad...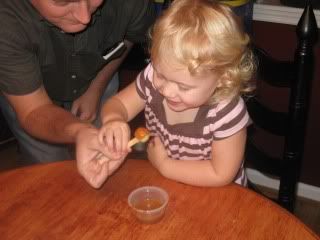 Have mini caramel apple will travel. Great for a little t.v. viewing snack...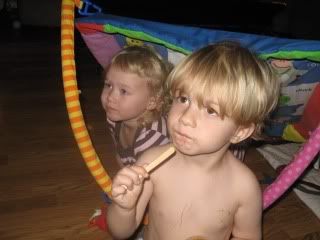 And, if for some reason your kid doesn't like caramel (what???!!!) they can always have a granola bar.
This has nothing to do with caramel apples, but is one of my very favorite ever cousin pictures. So I posted it.
Happy dipping!