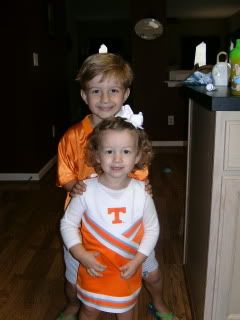 I'm hoping the deliciousness of this picture will help you forgive me for not posting a Project Monday update. Let me just say-this is my favorite picture of my kids together EVER. I assure you they are this cute all the time. It's just a little difficult to capture it on film. I should show you the four pictures that came before this one!!
On the subject of Project Monday, there has been an exciting development. I can't wait to sort of share it with you next Monday. I know the suspense will be killing you!
The weather has taken a crazy turn here since yesterday. It's not 100 degrees!! Yesterday morning we walked out to the car and Drew stood outside and said, "Ah, a cool breeze. Yesss!" In case you didn't know Drew has some serious issues with heat. It makes his ability to make good choices and control his behavior fall somewhere between 0 and -10. We've been working all summer on recognizing when it's the heat causing the issue and taking steps to cool off. Drew has spent the summer lamenting, "I can't wait for winter!" He was rather ecstatic about the cool down. I don't have the heart to tell him that by next week it will probably be a refreshing 95 degrees again. We'll cross that bridge when we get there.
Tomorrow is Drew's first day of school!! Being a teacher's kid sort of makes the luster of the first day of school somewhat diminished. He's actually spent the last two weeks at the school. But, we're going to celebrate anyway! There will be a front porch picture (perhaps in the rain!). We usually go get doughnuts for the first day, too. Emily's first day is not until Friday. And then there's the issue of Emily really shouldn't have a doughnut because of the dang dairy. So. I've got some more thinking to do about that. I know. Earth shattering considerations I'm working through here...
In other news, I start MY first day of school tomorrow. Having met my class and my parents I don't feel nervous at all. I have A LOT of work to do before tomorrow. And I have no idea when exactly it's going to happen. Me + Caffeine = BFFs!!!
I hope your September is off to a great start! I'm looking forward to a couple weeks from now when things are a little more settled. But, I'm so thankful for all the opportunities I have. And for my kids who troop along like little champs.
Ps. Those orange and white outfits they have on? They picked them out themselves!!