It happened when it started raining and wouldn't stop.
Saturday was supposed to be about a party. A first birthday party for my sweet nephew Van. My blog today should be pictures of the birthday boy. Instead there are pictures of a historic flood. In my town.
I have not really known what to say about everything I have seen in the last four days. But I want to say something. I want people who are not Nashvillians to have some stories of real people who were (and will continue to be) effected by the flood. I don't want to be one of those people who overly attaches to some major event and unnecessarily kicks up a lot of drama. I would be remiss, though, if I didn't admit that I'm still reeling from the events of the weekend.
As we celebrated Van's birthday, the local news broke in on the T.V. to report the flooding of I-24 in Nashville. We could not believe what we were seeing. Cars and semis floating down the interstate. And then, a BUILDING. How was this happening? It had just started raining.
I left my sister's house Saturday evening with my kids and my mom in the car. As we came into my part of town, a suburb of Nashville called Bellevue, things were starting to get bizarre. On my normal route home we were turned away-the road was closed. On our alternate route we passed Ensworth High School where my brother-in-law works. Instead of soccer fields there was a lake. The soccer goals were completely submerged. I'll admit at this point, though it was strange, I still did not really grasp the amount of water that would eventually cover Bellevue. We went to bed wondering what the morning would hold.
I began preparing brunch on Sunday morning. We were going to be celebrating Mother's Day since we were all together. But, as it continued to rain, I had a feeling it would not be a good idea for my sisters and their families to venture to this part of town. Big Dan headed out on a scouting mission and returned with some bad news. If they did come, they should be prepared to stay...for a long time. It would not be long before the roads leading into Bellevue would be impassable. Shortly after we cancelled brunch, our power went out.
We watched as it continued to rain relentlessly. Only now, we had no way of knowing what was happening outside of our home. I made frequent calls to Katy who kept us up to date on the advancing flood. Big Dan took a drive and returned with a jaw-dropping report. At an intersection just down the road, the water was up to the stoplight. I couldn't believe it, so I loaded up Drew and went to see for myself.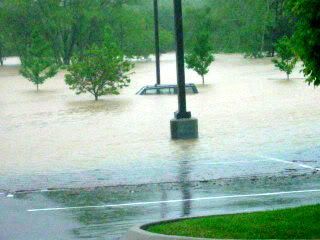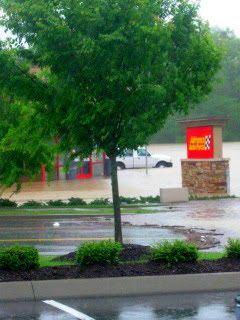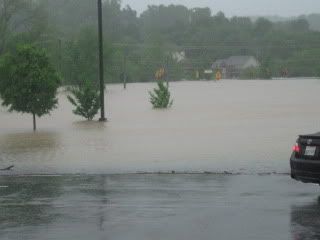 These pictures were taken just in front of the Publix grocery store within walking distance from my house. In fact, Drew and I have walked to the ice-cream shop in this same center more than once. The store was open, running on generator power and it looked like a refugee scene inside. Long lines of scared people stocking up for an unknown amount of time.
Back at home I gathered up flashlights and candles and set up camp for the kids and myself in the family room. We opened all the windows and went to bed early, because it was dark. Mom went to bed wondering when she would ever make it back to Knoxville.
To be continued...