Four years ago my sister called me up and said, "Hey, let's go to the beach for Memorial Day weekend!" Neither of us had kids-both of us were pregnant. And because we were footloose and fancy free we took an impromptu long weekend trip to the beach. The guys played golf and we waddled down to the beach each day. Kristin was around 6 weeks away from meeting Weston. I was only a couple months pregnant. I've always been a bit of a waddler-pregnant or not. We had a great time and talked about how we should make it a "thing".
And, so, now it's a thing! Last year had to be missed due to the fact that Van was approximately 3 weeks old. But, this year it was game on. No long weekend this year-a full blown week at the beach in a real live beach house.
We stayed at Surfside Beach in South Carolina. Surfside is south of Myrtle Beach and is a perfect place for a family.
You'll notice that I didn't title this post "Vacation 2K10". Let's be real for a minute. No way is it going to be a "vacation" when you are talking about three 3 year olds and 3 babies. It was straight up CRAZY TOWN!! And it was a blast.
Our house had a pool, so the littles were able to nap and the bigs were able to swim. Getting to the beach with all of our gear was pure hilarity, but totally worth it. The big kids LOVED playing in the ocean and digging in the sand. As you might imagine, the babies were not as enthusiastic about the sand/ocean. Luckily, we took a baby pool down and Emily was fairly content there. Well, as long as she didn't have to share her space with any boys!!
The kids had a pure blast playing together and Weston and Drew really perfected causing trouble together. This included their very first act of beach house vandalism. This does not bode well for the future.
Each couple got a date night and we all went out to eat one night. Because we're insane. Actually it went way better than we expected. We even discussed that next trip we should do it more than once. One day the dads took the bigs to a little ocean front dive for lunch. They had a great time.
I have lots of "favorite" memories from our trip, but the most fun thing was watching the dads teach the bigs about water balloons and ambushing the moms! Hilarity. Particularly when they turned on each other and the action moved INSIDE the beach house. No idea where our boys might learn about vandalism.
Just like everything else about being a parent, it was a lot of work but pure magic at the same time. And who wouldn't rather do hard work oceanside anyway???
Here are the very few pics I had time to take:
Drew on the beach with his name: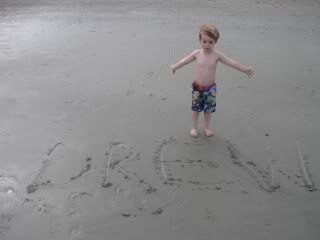 The creative sand castle I built with Drew and Lyla. Complete with a seashell driveway.
Drew in the pool. His favorite spot, by far!
Drew and Weston hanging on the couch.
Drew and Big Dan on our night out.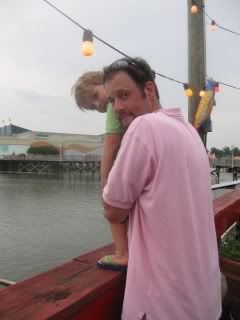 Emily in her personal pool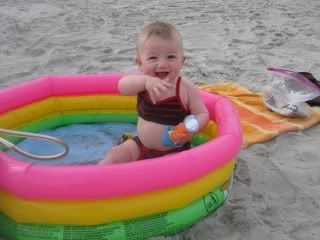 Emily waiting outside the restaurant. She was like this the whole time. She made friends with about 15 new people!
Emily taking down some table food.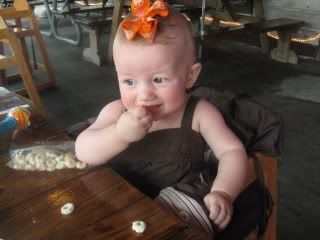 Sheesh. It has taken me over a week to get this dang post up. And I know it is less than riveting. And, seriously, what mom takes only like 7 pictures on her family vacation??? I really have good intentions of blogging more. Because i have a lot of words built up, but I think my brain has melted inside my head!!