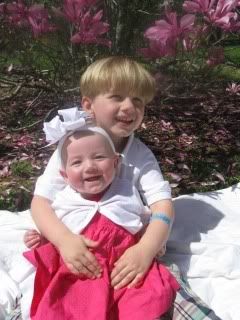 Easter is my A-Number One all time favorite holiday.
I love that there is not a lot of hoopla. We don't start talking about Easter in January. I think that's refreshing.
I love that nature is like a big blinking neon sign pointing to the significance of the holiday. Death to life. All things new.
I love that we have been able to keep Easter very low key in our lives. Please don't be offended in you're in my family. For some reason, I just cherish the thought of keeping it simple. And not taking a road trip.
I love that we made it to church this year without anyone being sick.
I started off my Easter week with a preschool music program at Lyla's school. I just need to say that I was
thisclose
to completely dissolving into a giant puddle of sobs. I really have no idea how I held it together. I am a complete SUCKER for a kids program, especially a church music kid's program. And watching Lyla up there singing. Whew. It was too much. You might be thinking that I'm in big trouble the first time Drew is in a program. But then you'd be forgetting that most likely he will refuse to be in the program. So, maybe I'll have it together by the time he's 12 and might be in church program.
Friday we had a Mom's Club "Spring Fling" egg hunt. Also known in the not-so-politically correct circles as an "Easter Egg Hunt". You may have heard of it. Anyway, Drew got a stomach ache and had a weird look on his face for a good solid 15 minutes, so we hightailed it out of there before he puked all over the "Spring Fling". After an hour on the couch he was fine. Bad jelly bean maybe.
Saturday was one of those days you don't plan, but turns out to be so fun. I needed to go to Opry Mills to return some stuff and Big Dan was working, so I dragged the kids with me. In and out, I thought. And then we found out there were Easter (Spring Fling??) activities happening at Bass Pro Shop. Well, heck yes! Sign us up for some Easter time fun. So we made an Easter ornament. For the Easter Tree?? Not sure. But, really, nothing says Easter like a styrofoam egg that's been bedazzled.
There was also some other fun at Bass Pro, but it's a surprise. I can't reveal it to you just yet due to some technical difficulties. It will be worth the wait. Trust me.
The kids caught a quick nap in the car before I hauled them to the neighborhood Easter egg hunt. Because being a good mom means cramming in the memories, right?? Honestly, I wasn't sure how Drew was going to do after a 25 minute car nap. And, well, there were other kids at the Egg Hunt so it was dicey. All that said, Drew had THE BEST time. He got his face painted. (Did you pick yourself up after faninting??) He jumped in a bounce house with around 6 ten year olds-big ones-and cracked up every time he got knocked around. And you should have seen him take off on the Egg Hunt. His flip flops came off and I was pretty sure he was going to break down. I shouted "Just leave your shoes!! Go, go, go!!" At least I'm not an intense mom...He took off and did awesome. Oh, and did I mention he entered a bunny hop contest??? Yeah he did. He didn't win, but it's only because he's the only one who actually hopped. He had a complete blast.
I love Easter. I love that Drew is learning about God's love for him and all that He did for us.
And some sweet icing on the cake?? Reese's Eggs, baby.