Remember that time that my whole family was here and we got
locked out of the house
? And, then we had to beg Lyla to crawl through the dog door? And I promised to take her to get her nails painted? Yeah, that was almost a year ago, but I finally got around to it!! Lyla and I visited a little spot called "Dudes and Divas" (not kidding that is the name) and she had her first fancy manicure. SO much opinion about this place. But, I'll save it for it's own post. I won't ruin the Lyla story with all my soap boxin'. I must also say that I don't have one single picture of Lyla
actually
looking at the camera. I can't really blame her though. It looked like the sequins store threw-up in there, so there was a lot to look at.
Here is Lyla just after choosing her polish. You can see it gripped tightly in her hand. It took her about .25 seconds to choose pink. Thankyouverymuch.
Here is Lyla sitting in the Butterfly pedicure chair. We were quickly ushered out of the Butterfly pedicure chair, because apparently you have to RESERVE it. To which I stuck out my tongue and blew raspberries. Just kidding.
Finally, it was our turn to get some polish. Lyla hopped right up in the chair and put her hands up on the table like an old pro. Some girls just come by a manicure naturally, you know? She was even more thrilled when she got to sit on a silver glittery booster seat. Plenty of glitter going on. She is keeping close tabs on the little girl next to her.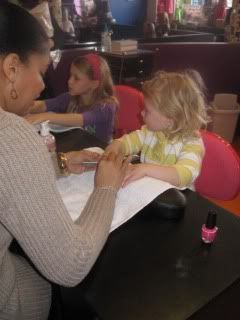 Lyla was SO sweet and it was such a treat to spend time with just her. She was a little shy to me at first!! SHY! To me! I mean, how can you be shy to me when you've been sitting in my kitchen looking like this:
But, Katy and I talked and it's never been just Lyla and I before. Not to mention it has been almost A YEAR (!!!) since she was staying with me. I made her a CD of all the songs we used to dance to when she was staying here and found a special book for her called "Lyla the Lovesick Ladybug". Can you believe there is a book called that?? She got to pick out a ring (not nearly the spectacular bling she picked out Saturday at the Aquarium...) and a sucker. We met her mommy for lunch (which I'm pretty sure was her favorite part) and got some tiny pink cakes at the Fresh Market. It was so fun for me to spoil her! On the way home, she could barely keep her eyes open. And in kid world, that means a great time was had by all.