So...I decided the dead of summer would be the ideal time to purge our attic. Because, I'm not getting to the spa nearly enough for sauna visits, so I just hang out in the attic until I've sweat out all of my impurities. And believe me, these days I have a lot!
I think it's the nesting urge looking for something to nest. At any rate, I have been saying good-bye to all sorts of useless stuff and encouraging my husband to do the same. Both of us kept a completely unreasonable amount of school papers and work papers. I guess when we moved four years ago, all the hard work of it all was so fresh. Now, I could give a care! And, if by some strange chance I end up back in Children's Ministry, you can bet your bottom dollar all of those articles I painstakingly filed will be obsolete. I think I'm going to have to drop off recycling every day.
I did manage one really great find for Drew. Daniel and I had accumulated quite a bit of "skit clothes" over time. Why I insisted on keeping them and bringing them to Nashville is beyond me. Somehow "tacky prom" and a 70s murder mystery party don't really show up on a firm's calendar. Which, maybe they should. A little good mood would go a long way at that place! Anyway, Drew was ecstatic to have some of his own dress-up clothes. He puts on outfits and says, "I"m a movie player!" I think he might mean "movie star".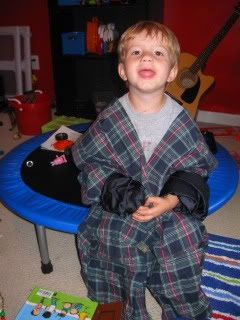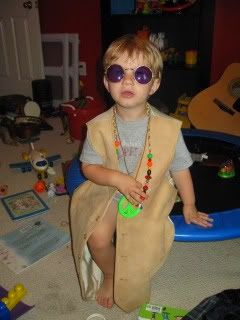 Gotta run. I think Hollywood is calling...