Today Drew and I took a walk. A really long walk. I had some errands I needed to do, and they were all right in our little area, so we decided to walk. It was so fun and we saw a lot of fun things while we were walking. There is a secret passage of sorts that leads out of the back of our neighborhood and to some side streets that make walking to the store a little less dire! Keep in mind that there was a time when I was unaware of the secret passage and pushed a double stroller down the shoulder of Highway 100-the main thoroughfare through our part of Bellevue!! Talk about dicey. You should have seen me jogging behind the double stroller. Good times.
As we started out on our walk today Drew decided to bring a few items along-a measuring tape, a luggage tag, some fake hay from the manger, and a rock-because, really, you never know what's going to come up!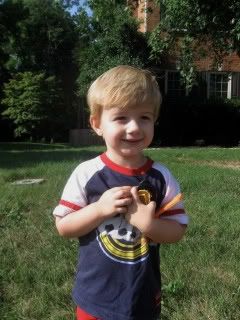 We made it about two blocks before all the items ended up in my bag. Predictably.
Anyway, our first stop was a construction site where we got to see both bulldozers (or a "bulldoze" as Drew insists it be called) and an excavator. I didn't get any pictures of this part. I was too nervous to let go of Drew's hand. It was a total bonus. We stood and watched the machines work for a long while. The workers were all very friendly. Luckily, not in a whistling and leering kind of way.
Next up was the hardware store. I needed some stakes and ties for my tomato plants AND I made the best find!! Something I've been looking for for over a year!! More on that later...
After the hardware store we moseyed on over to Walgreens. And I do mean moseyed. When you are on a walk with a 2 1/2 year old there is a lot of this: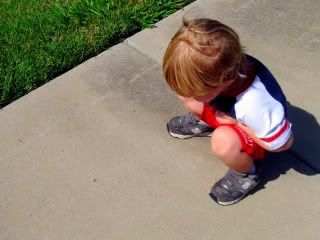 This is Drew stopping to examine/talk to a spider.
After Walgreens we went to McDonald's to have a biscuit. I mean, I'm pretty sure after all that walking, the biscuit didn't even count, right?? Maybe that should be my new rule-want a biscuit? walk to get it!!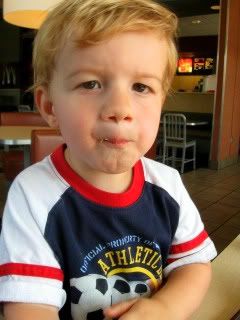 Our final destination was the little playground in our neighborhood. I'm pretty sure it was the only way I was going to keep Drew moving. We were both walking a little slow the whole way back!! We did get to jump in some bonus sprinklers...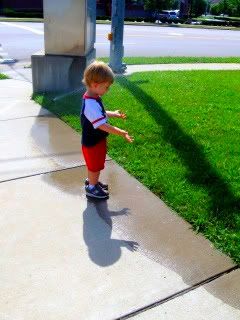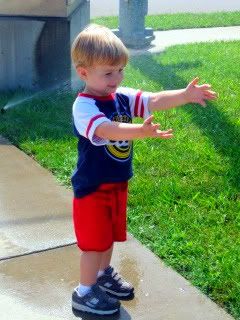 And spend some quality time with a butterfly...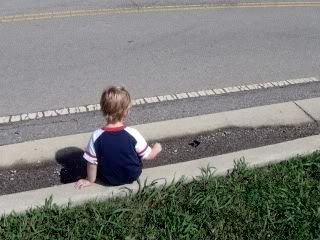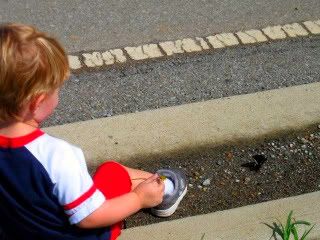 All in all, it was a great adventure. We did have one rather iffy moment-while crossing Highway 100 Drew dropped his measuring tape...twice. I did not really feel the measuring tape was worth getting run over for. Drew disagreed!! Also, our culture is not really a walking culture. We got some pretty weird looks, which is a shame I think. My neighbor passed us and backed up and offered us a ride. She was sure I was without a car-I mean, why else would I be walking?? When I told her we were just out for a walk, she told me she was impressed. I think what she meant was that she thinks I'm a lunatic!!