We have had a busy few days. In the span of three days we celebrated Easter, Daniel's birthday and our 8th wedding anniversary! Phew. That is a lot of celebrating!
For Daniel's birthday, Drew and I made him a "dirt" cake. It's one that he loves and I knew Drew would have a fun time helping me make it. Especially when it came time to put the worms on. I was right. He loved it. He also LOVED singing Happy Birthday to daddy all day long. Here are some pics of our little celebration.
Here is Drew "helping" with the cake!
Daddy's "surprise" face!!
Blowing out the candles
Drew sampling a worm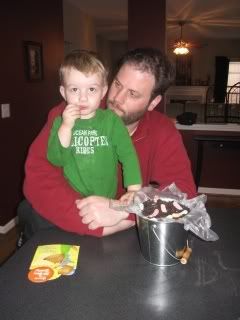 We love you, Dan!!! We are so glad you are our husband and daddy!