Baby fever is definitely in the air. We are three short weeks away from my due date. So, you know, probably 5 weeks away from her actual arrival!! If she's anything like her brother, she'll be dragging her feet about making her grand entrance!!
Drew is definitely processing the prospect of a baby being in our home. It has been really helpful for him to experience two new baby cousins over the last several months. He at least has an
inkling
of what is going to happen. He has been pretending he is a baby himself, as well as playing baby without a baby! He pretends to be doing stuff with a baby-playing with it, changing it, etc.
So, I decided he needed a baby of his own. On Saturday, I took him to Build-A-Bear to make his very first bear. I love, love Build-A-Bear. I think it is a genius idea. It is a little like Disney World-everyone who works there is super perky and cheerful. And how could you not be? You're surrounded by fluffy goodness and miniature items for bears! Miniature golf clubs, and skate boards and roller skates. The sweetness of the place will give you cavities!
Drew was super confused when he was picking out his bear shell-he kept saying he wanted the one on the shelf. You know, the one that
had
stuffing and wasn't all floppy! I told him to trust me on this one and we headed to the fluffer machine. The machine was noisy and so he was a little timid, but soon he realized his bear was starting to actually look like a bear! I could've burst into tears watching him kiss the little heart and put it inside his bear. Sigh.
Next, we headed over to the bear washing station and he was totally into it by this time. He brushed and brushed and brushed his bear. After all the grooming, we picked out some baby pajamas, a baby bottle and rattle, and some baby diapers for his new "baby". He was so excited that we could go ahead and dress the bear! Once we paid for everything, Drew immediately held the bear just like a baby and walked around the mall "feeding" him. It was priceless.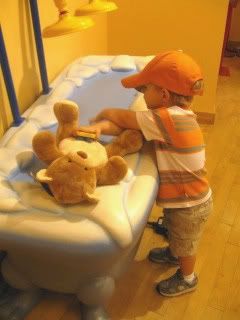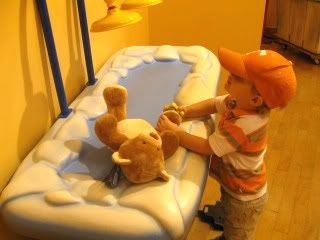 When it came time to ride the carousel (a must do anytime we're at Opry Mills, you know!) Drew insisted on taking his baby with him. It was great.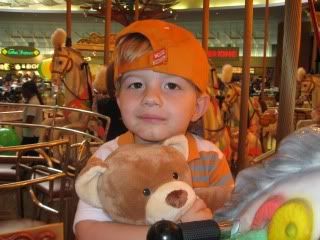 On the way home we talked about what he might name his baby. He decided on Fred. No idea! The bear is also referred to as "beary weary" "honey bunny" and other rhyming phrases since busting out a rhyme is one of Drew's new favorite pastimes. I wasn't sure if Fred (or sometimes Freddie) was going to stick as the name. But today, in a moment of hunger and thirst before lunch, Drew laid his head on the table and declared, "I'm missing Fred." There you have it. Fred it is!