Big day today! Well, big last 24 hours really. Yesterday morning Drew's new "big boy" bed was delivered (and set-up!) and by nap time I had it all ready to go. He was so pumped to sleep in it, even though his new room still looks like a construction zone. I told Big Dan last night that just switching a couple of rooms around was as bad as moving. Then we lamented the day we have to pack up our whole house and actually move. But, I digress. Drew slept in his bed for nap and took a GREAT nap. He still cranks out a three hour nap about once a week, but I'm sort of secretly hoping that the new bed is magical and he'll go back to sleeping better at nap time. He also slept great last night, despite the gigantic thunderstorms that rolled through. I kept thinking, "Well, SURE there would be thunderstorms his first night in his new room." And then I prayed serious, fervent prayers that the power wouldn't go out. The Lord had mercy!
I got a little choked up when I tucked him in and shut his new door last night. I mean, he looks so TINY in that big ol' bed!! Twice, when walking by his old room I was startled that the door was open. No idea where my child would get the "averse to change" quirk...
He's such a peanut in his bed. Check it out! And I would like to state for the record that I took these pictures slightly crooked because I was in a hurry. Big Dan's painstaking job on the letters did not produce the crooked letters!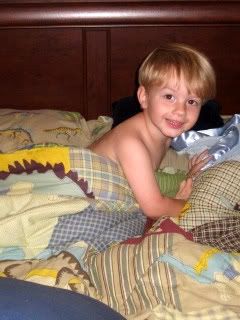 And as if that weren't enough, today we went to meet Drew's play school teacher!! That's right! Drew will be going to play school two days a week starting next week. We registered him for the program back in the winter and have had some life upheaval since then, so we were on the fence about whether to keep him enrolled. In the end, we decided it would be the best choice for everyone. Today was a little open house, so we met the teachers and Drew was able to play in the classroom. The classroom is great-just what you would hope for in an early childhood classroom. His main teacher is totally a preschool veteran, which I love. She is super sweet and I'm sure has lots of experience dealing with neurotic first time moms. Which, you know, is lucky for all those kind of moms...right. I know Drew will take some time to adjust, but I think he will end up really liking "school". Especially the part about getting to play outside on the playground for an hour!
I can promise you I will be a complete wreck when I drive away on Tuesday. Good thing I'll have the whole morning to myself to sob!