We did it!! We all survived Drew's first day of play school!! It went remarkably well-no tears from Drew at all. As for me, well, that was a different story. I teared up the minute we left the classroom and had to work hard to hold it together until I got to the car. I mean, half my neighborhood takes their kids to this preschool, and I didn't want to make a giant fool of myself!
Drew had a great time playing and I got lots of "mommy jobs" done. I picked him up early because I am still unsure about his napping at school-he still takes a pretty long nap. He was not happy about leaving early, so tomorrow we'll try out the nap at school. He pottied for the teacher and ate his lunch (two of my biggest worries!) He was in a great mood all afternoon so I don't think he was overly stressed.
Here are a few pics of the big day:
The classic first day of school on the porch shot
With Daddy before school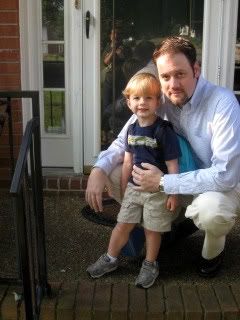 Showing Daddy some toys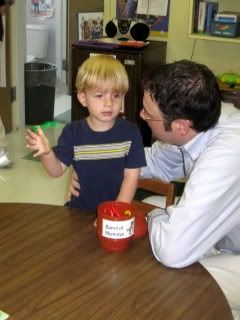 There was a picture of Drew and I on the porch. It got banished to a far away place. I can do that-it's my blog. Let's just say I'm seriously channeling this guy just now...
I'm so excited for all the new things Drew is going to learn and experience. And I'm really glad it's just two days a week. I missed having a sidekick!