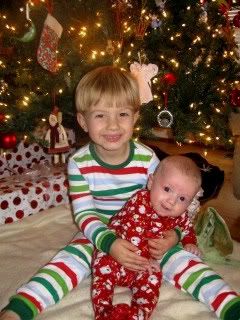 Coming to you live from the land of the Christmas hangover!! Both family and home are officially ragged out from the amazing amounts of holiday fun we have had for the past 4 days! We have had a complete blast and there is NO WAY I could ever sum up all the festivities without writing for the next week and a half. I'm not that dedicated, and I'm pretty sure you don't want to read it all, so I'll give you the greatest hits.
Christmas Eve
We spent Christmas Eve with Daniel's dad and brothers. There were all sorts of activities taking place around the house.
Christmas wrapping paper cutting:
Making cookies for Santa: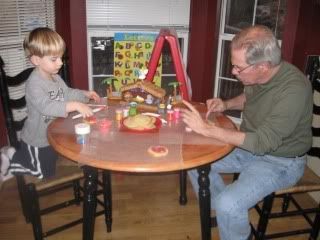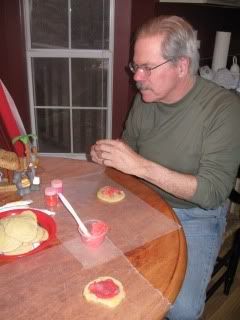 And, of course, napping: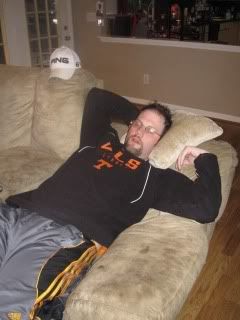 Christmas Morning!!
Continuing the Hamilton family ritual, Big Dan and Drew waited at the top of the stairs until I was ready.
Drew was slightly excited...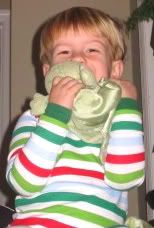 You should have seen the living room. It looked like we had 10 kids instead of 1 and a half! There is something to be said for being the only grandchild/nephew on one side of the family!!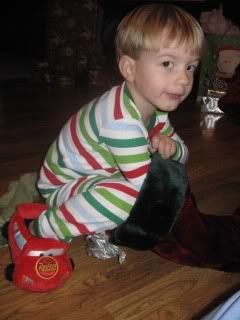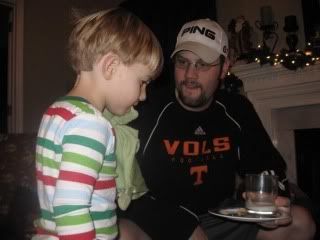 Drew was wild as a buck all morning/day. And while the grown-ups were all down for the count Drew was going strong!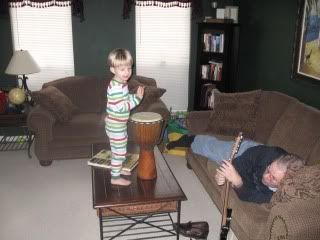 And just in case you think Emily was left out of the fun, don't you worry. Drew made quick work of the present Santa left for her!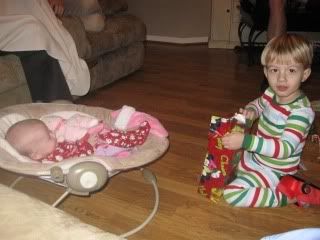 Hamilton family Christmas Party
My side of the family came down on the day after Christmas so that we could all celebrate together. You can imagine the energy level. I'm pretty sure the house was vibrating!!
The big kids made birthday cakes for Jesus and we sang to Him.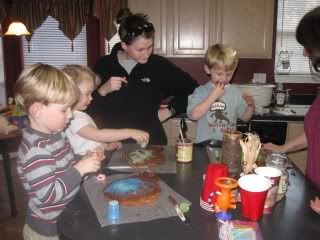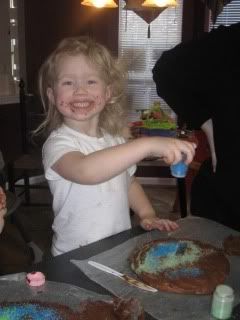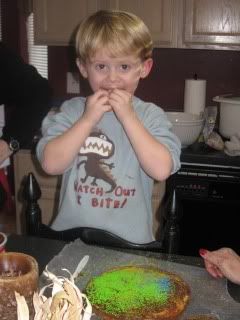 I got exactly zero pictures of Hamilton family present time. I was playing elf and handing out presents and trying not to drown in all the wrapping paper! Things started out nice and orderly and slowly starting unraveling sometime around the time a sleigh was fashioned from a big box and a jump rope! Like every get together with the Hamiltons it was nuts...and perfect!
Emily insisted on wearing a party outfit. What could I do but oblige? I mean, it was Christmas afterall!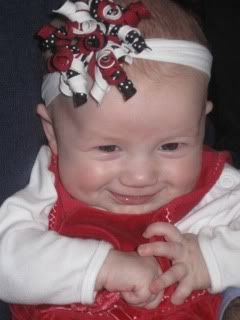 We wrapped up Hamilton family Christmas at Katy's house on Sunday late morning. The kids had a great time playing. Well, until they all hid in Lyla's new tent and colored on themselves with markers. And for the grand finale, Drew chucked one of Lyla's high heels at her and left a Christmas welt on her face. What's Christmas without a little cousin abuse??
I hope your Christmas celebration was as full of life as ours was!! We are blessed beyond measure and so thankful for our family.