Mark it down! I got a monthly update up on the ACTUAL day of her turning 5 months old! I'm a big fan of this picture because the top 1/3 of her shirt is covered in spit-up. I just want to keep it real for ya'll!
Emily, at 5 months you:
*Have taken your first road trip. I took you and Drew to Grammy's birthday extravaganza in Townsend last weekend. You did great in the car and pretty good on the trip as a whole. You and I slept in the bed together and man, are you wriggly! You did sleep ALL THE WAY through the night one night at Grammy's house. If you had done it more than once, I would have been forced to move in. I'm sure Grammy is relieved that you didn't!!
*You are now rolling from your back to your front. You worked hard on this skill, and once you did it for the first time, there was no looking back. Now we are in the super fun phase of rolling over to your tummy, where you hate it, and then fussing because you forgot you can roll back! Hilarious! I'm not trying to stunt your development, but I'm keeping you otherwise occupied most of the time. I did get you a little toy for tummy time. It is making it a little better. For an extra 15 seconds.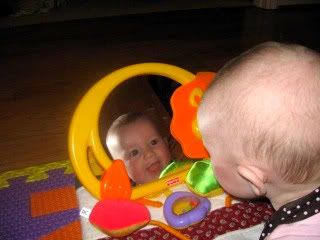 *You are having fun with short runs in the jumper and the excersaucer. I wish I had video of the first time I put you in the excersaucer. It was like Disney World to you!
*You love your Praise Baby videos so much. Better than the beloved Baby Einstein videos. I think you like them better because they have lots of kids and babies in them. You fuss when the video is over. Sometimes putting on the video is the only way I can get you to eat!
*Your stomach issues seem to have stabilized (until I publish this post, when they will inevitably take a turn for the worse). You are fully on Prevacid now without using any Tagamet. Your spitting up has good days and bad. The past week has been great with very little spitting. Your last really great puke was at Poppy's store!! You puked all over his floor and poor Danny cleaned it up! Pretty sure that is not in his job description!
*You are taking two big naps (1 morning and 1 afternoon) with a short power nap in the late afternoon. As much as I whine about your sleep, you're pretty textbook for your age.
*I know you HAVE to be working on some teeth. I haven't seen any hard evidence yet, but I know they're coming.
*You love to make spitting noises. A lot. Like until your face turns red! Ha! You have also figured out how to squeal. It is not quite the "bottle rocket" sound Drew used to make, but it's still pretty hilarious.
February to March flew by. And our March is packed full of fun, so I'm sure it will be April before we know it. Hard to believe it is just a month until you are 1/2 a year old! I love you, sweet girl!