Last week i was talking to my sister (for probably the third time that day...) and she mentioned that she was at Wal-Mart getting items for a project she was doing with Weston for Haiti. I begged her for the details and then squealed (maybe not actually) because it was just the kind of project I had been looking for. Coupled with the fact that her stories about Weston and the bucket were so stinkin' cute. Because after looking at pictures of some Haitian children he wondered if they were on "Gullah Gullah Island." And when it came time to pray for his bucket he started, "Dear Haiti..." When my sister stopped him and said, "We need to pray to God
for
Haiti" he said, "Oh yeah...Dear Haiti..." Love it!! I wanted something to do with Drew that was hands-on. Something more than just putting money in an envelope. And this was just the project. Only, there was a slight problem. I'm not Baptist (anymore) and I had no idea of any churches locally doing this project. Luckily, I spent the majority of my life as a hard-core Baptist, and knew my local Baptist Association would have all the pertinent information.
I called the Nashville Baptist Association office, explaining that, while I wasn't a Baptist, I loved their project and would love to do it with my three year old. The lady laughed and said they would love to have an extra bucket (from a Baptist or not...) but I would need to drop it off on Thursday. EEK! It was Tuesday. Late afternoon. So, on Wednesday the kids and I headed to Wal-Mart. And may I take this opportunity to say that I only go to Wal-Mart in extreme emergency situations. Like devastating earthquakes. Because I loathe it. Anyway. Drew carried the list and helped me load everything into the cart. This little excursion was a great lesson in "this shopping trip is not about you." The kid is like a heat seeking missile-pulled toward all things Buzz Lightyear...
After dinner we all sat in the kitchen floor and assembled our bucket. Here is Drew with some black beans:
Big Dan helped with the packing. There were some very specific instructions for the packing. At first I was dictating and then when I left out a crucial step, Big Dan took matters into his own hands!!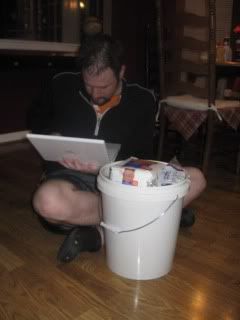 Finally, everything was packed in and Drew and Big Dan put the lid on together.
We said a prayer for our bucket and I managed to get it dropped off in time. I hope our little family will bless another family with the bucket.
Before you think this moment was brought to you by Hallmark, you should know the back story. The back story being that Drew threw a complete fit in Wal-Mart as we were checking out. So heinous, in fact, that I had to put him in the buggy and cart him out as fast as possible. Then later as we were putting the bucket together I was taking pictures and he said, "Ok, but I'm NOT going to smile..." Lovely. I'm not really sure the project had the effect I was hoping for. Even after looking at some pictures of children in Haiti. The concept of others not having as much as we do seems to be lost on him. All I can hope is that somehow, these lessons will soak in, little by little.