Hope ya'll had a fun filled fourth! We kept it low-key since this was one of the only weekends we would all be home together in the next two months! Yikes! We had some major family time and it was WONDERFUL!!
On Saturday morning, Big Dan took Drew to the neighborhood 4th of July parade. Drew and I decorated his Batman motorcycle so it would look festive. Drew is not really all that in to pedaling, so Big Dan got to participate in the parade. By pushing Drew!!
We also had a little time with some sparklers. We did it in the broad daylight, because one thing I've learned this summer is that it is no fun for anyone to let Drew stay up late! After Emily went to bed we got some sparklers going.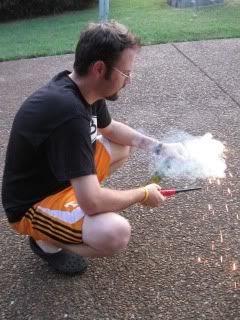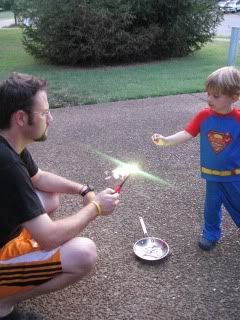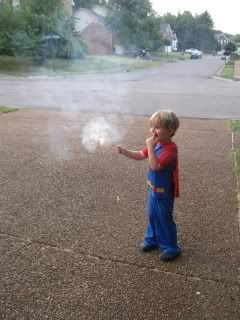 I kind of thought Drew might be scared of the sparklers, but he was totally into it. And then the sensory issue of it all kind of got to him. The smoke bothered his eyes and nose. As you can see...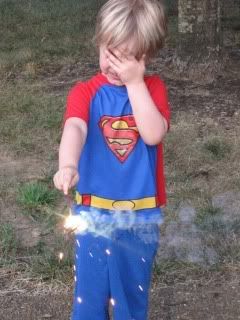 I didn't want him to stop having fun, so I came up with a solution! Put on sunglasses and hold your nose!!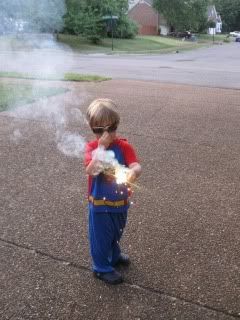 Whatever works, right????
And then Big Dan had a moment of pride in the good ol' US of A...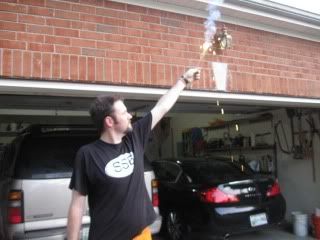 Let freedom ring!